Definition and characteristics
Electro is an artistic musical form in the wide world of electronic music culture. With few exceptions, the definition of the electro sound is the use of drum machines as the base of a track for broken, syncopated rhythms. Adopted by many electro enthusiasts, the Roland TR-808 is a legendary drum machine created in 1980 with a recognizable sound; it is still used and cherished today. The instrumentation is generally all-electronic highly emphasized by sound design experimentations with funk-style simulated bass lines, sequenced or arpeggiated synthetic riffs and unheard sound effects, all created with synthesizers. Heavy use of effects such as reverbs, delays, chorus or phasers together with original electronic pads create a rich and simultaneously cold sound that emphasizes the common science fiction theme of the lyrics or instrumental expressions. Not all electro features rapping; vocals processed through a vocoder are a common element that imitates cybernetic/robotic locutions or simple speech machine formulations. Also, instrumental tracks are more prominent than in related genres of electronic music and hip hop music.
Electro, short for electro funk (also known as robot hip hop and Electro hop) is an electronic style of hip hop directly influenced by Kraftwerk and funk records (unlike earlier rap records which were closer to disco). Records in the genre typically have electronic sounds and some vocals are delivered in a deadpan, mechanical manner often through a vocoder or other electronic distortion.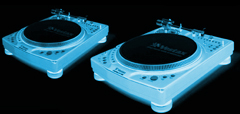 History
In 1983, along came upper Manhattan, NY based Cutting Records' first recording artist Hashim. Hashim, or Jerry Calliste Jr. created the influential electro funk tune "Al-Naafiysh (The Soul)". "Al Naafiysh" became Cutting's first release in November of 1983, and Calliste became the label's vice president (Kellman, 2007)[1]." At the time Hashim was influenced by Man Parrish's "Hip Hop Be Bop", Thomas Dolby's "She Blinded Me With Science" and Afrika Bambaataa's "Planet Rock" [2]. "Al-Naafiysh (The Soul)" managed to crossover into the mainstream music markets around the world and is now one of the world's most sought after electro tunes in electro music's history. Bambaataa and groups like Planet Patrol, Jonzun Crew, Mantronix, Newcleus and Juan Atkins' Detroit-based group Cybotron went on to influence the genres of Detroit techno, ghettotech, breakbeat, drum and bass and electroclash. Early producers in the electro genre (notably Arthur Baker, John Robie, Shep Pettibone, and the Latin Rascals) would feature prominently in the Latin Freestyle (or simply "Freestyle") movement of the early and mid-1980s. Baker and Pettibone would enjoy robust careers well into the house era, and both would elude the "genre trap" to successfully produce mainstream artists.